Hi guys, How are you doing? So, here is one more post on my trip to Jaipur series. This post covers my trip to City Palace, Jaipur.
If you haven't read my previous post on my trip to Jaipur, yet. You can read it here.
How did I reach there.
So, I booked an ola auto to reach the City Palace. As I reached the destination, I could see stall vendors selling nimbu pani(lemon water), beautiful hats, just everything to get you through the scorching heat.And the sky was adorned with pigeons flying and chirping.
As I was stepping out of the auto, I felt like a princess waiting to be entered to her palace(yup, overdramatic me).
Entry to the palace.
So, to enter the palace you would need to buy a ticket. Charges are different for local and foreign visitors. All charges detail would be mentioned in the ticket counter.
They had also mentioned the link there in case you wish to buy an e ticket.
What happens afterwards.
After you have taken the ticket, you can enter the palace, the palace contains 3 gates out of which only two gates are opened for public. One is not opened as, the current royal family lives there. Once you enter the palace, you can hire a guide, I didn't hire one, because my friends were more interested in clicking pictures rather than knowing history(yup, I succumbed to peer pressure).
But if you wish to to know more details about the complete palace, I would suggest you to hire a guide. If you do hire a guide, please bargain, or if you wish to not hire a guide, in that case do read the passages if they have kept at different places, they would help you know more about the ancient history.  And most of the times the guides will tell you the same thing which is written already anyways.
What can you find inside the palace.
Trust me on this, apart from the beautiful architecture you will find almost every shop inside the palace. You can find beautiful jewelries, shawls, paintings, quilts, skirts, kurtis, suits everything, you name it, you got it.
Also, if you feel thirsty while walking(trust me you will need to walk a lot), in that case you don't have to spend your money on buying water bottle. You will easily find water taps available, drink from it or fill your water bottle from those taps.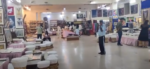 The best part about my trip to City Palace, Jaipur
I love history, I wanted to do my major in history, which obviously didn't happen, not easy to divert from social norms in an Indian household(wink wink). Anyways, so the part I loved most was the weapon gallery, it had all the guns and weapons which were used in the ancient times, it also had  clothes wore by the queen, the king during those times. You could see swords, guns, rifles, knifes, shields everything.
Although, taking pictured is not allowed in the museum. But if you are just like me who loves history and loves knowing about ancient people lives, I assure you a trip to museums and weapon gallery in the city palace will be totally worth it.
Also,  you would be able to see the Jaipur state flag there. And then there will come a gallery where photos of complete royal family is kept. You can see the royals who used to live there and the royals who are living there now. And trust me the ladies of the royal family are so beautiful. I clearly remember a person from different country saying to her guide, 'oh my god she is so beautiful, she looks like an actress'. And she kept saying that again and again.
How can you see about the current royal family
The current royal family is also active on instagram. So,if you want to see what they are up to and have a sneak peek on their lives, you just can google 'city palace royal family insta id's'. I am sure you find their instagram handles, you can then check them out.
Also if you prefer watching videos of my trip to City Palace, Jaipur. I have created a completed you tube video on it, you can check it here.
So, that was all my blabbering about my trip to City Palace, Jaipur. See you in my next post. Till then stay safe. Be happy. Keep travelling(even if you have no one to travel with, travel alone, you won't regret it). XOXO