Hi guys, I hope you all are doing good. So, a few days back I visited Jaipur which is in Rajasthan, India. And I wanted share my experiences of my trip to Jaipur with you.
So, Jaipur is also known as the pink city of India. The city is filled with beautiful architectures. You will find Jaipuri prints in everything that is being sold by street vendors to the big malls.
How to reach Jaipur.
I went Jaipur from Delhi. And I booked a train, I booked in second ac. Although I got downgraded to third ac.
The journey was a roller coaster as I was allocated the lower seat, and if you are an Indian you might be very well aware that everyone welcomes themselves to sit on the lower seat.
My train my jat-bme express. Although ut arrived a bit late, but I was able to reach Jaipur station in time.
Where did I stay in Jaipur.
I boked a hotel names hotel fort chandragupta from goibibo. The total cost for three nights was around 5000 rupees. I also orderd food three times in hotel that costed around 2700 rupess. I will make a separate post on my complete review of the hotel. Till then if you wish to check the review, you can check this video here on my you tube.
The places I visited in Jaipur. 
There are n number of places to visit in Jaipur. But since I was short of time, I visited the following places, I will write a detailed blog about all these places very soon.
a. City palace.
b. Govind ji temple.
c. Amber fort.
d. World Trade park.
Tips before vising Jaipur.
If you are going to visit Jaipur. Here are few tips which will help you.
1. Don't plan your trip on extreme summers or extreme winters.
If you are planning to visit Jaipur, I would suggest you to not go in summers, as the place burns with sun during extreme sumners, but I won't suggest you to go there in winters also, as the city sees a lot of tourist in winters so the prices rise.
Try to go there in the months between summers and winters.
2. Book ola and uber, you will thank me later.
The number one hack which I have decoded while travelling is that it's always better to book ola or uber as chances are the auto wale bhaiyas will ask you double the rates once they get to know you are a traveller.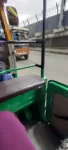 3. Wear comfy dress and shoes while planning a trip to Jaipur.
It's the best advice while travelling to wear comfortable dress and shoes as you will need to walk a lot specially if you are visiting any forts.
So, that was all about my trip to Jaipur, for today, but this Jaipur series don't end here, I will write more blog posts sharing my trip with you. And I am sorry for not being active, you know life happens sometimes, and I know you will understand.
What was your favourite trip and did you have any beautiful or weird memory of it? Do let me know in the comments below.