India. The word itself makes you think a vast amount of things. Different cultures, different religions, different languages, different weathers and what not. This blog is all about my trip to Varanasi.
If you want to visit my other travel blogs, you can check out my trip to Udaipur blog also.
I love travelling and just few months back, I went to visit Varanasi.
I went along with my sister and my father.
We went via train.
The journey
We took the train from Ghaziabad railway station. We reached the station an hour before the arrival time and waited for the train.
Once the train arrived we on-boarded it, set our seats and went to sleep since it was late.
The next day when we woke up, from the train window we saw that we were crossing Prayagraj.
We could see sangam from the window, the view was so breathtaking.
Finally, at around 11 in the morning, we reached the Banaras station.
The journey to the hotel
After taking exit from the railway station, we took an auto to our hotel.
The roads were extremely crowded. It took us 30 minutes more than the usual time to reach our hotel.
The hotel
The hotel was inside the famous narrow streets of Varanasi, since no auto or any other vehicle went inside those narrow streets, we had to walk, and while walking we got a chance the explore the streets of Varanasi.
Filled with street vendors selling malas, murtis, clothes, food etc, the street was filled with hustle bustle.
After having walked our way we entered the hotel, checked-in and  freshened up.
Kashi Vishwanath temple
After that firstly we went to visit the Kashi Vishwanath temple.
On our way to the temple we took the flowers and prasad from one of  the shops. Several shops were lined up on the way to Kashi Vishwanath temple.
Phones and camera weren't allowed their due to security reasons. So, I don't have any photo or video of it.
But there is also a new Kashi Vishwanath temple in IIT BHU, Varanasi, which I have shared below.
The queue in the temple was very long but the chanting of  "har har mahadev" by the people, my father's voice being the loudest made everyone feel energetic.
The temple was beautiful. We had our darshan peacefully (though there were monkeys who tried to stole our prasad.)
Kaal Bhairav temple
We also visited the Kaal Bhairav temple during our stay at Varanasi. It is said that after coming to Varanasi one must visit both Kashi Vishwanath temple and Kaal Bhairav temple, else your visit to Banaras is incomplete.
Dashwamedh ghat and Assi ghat
There are many ghats in Varanasi, Dashwamedh ghat, Assi ghat and Manikarnika ghat being one of the most famous ghats.
We also did boat riding in Assi ghat during the evening. From Assi ghat we went to Dashwamedh ghat via boat.
Ganga Aarti at Dashwamedh ghat
After reaching Dashwamedh ghat we sat on a boat to see the aarti being performed. The aarti was mesmerizing.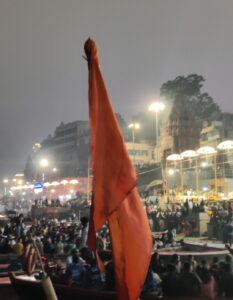 Sarnat
We went to sarnat on the last day and saw Sarnath stupa. Also, visited Varanasi handlooms.
The ambience of Sarnath was completely opposite to that of Varanasi. Whereas Varanasi was filled with so much rush and noise, there was peace at sarnath.
Things we ate
Are you even an Indian, if the first thing you want anywhere you go isn't food.
During my trip to Varanasi, I too tried a lot of delicious foods in Varanasi.
The price of food was much decent in Varanasi. Here are few photos of the food that we had.
We also visited Ramnagar fort, since I was too tired till then, I don't have any photos of it.
That was all about my trip to Varanasi. It was a wonderful experience, though I am not a person who likes the hustle bustle so much, so sometimes the noise in the streets caused me a headache.
Apart from that I loved every part of my journey to Varanasi. The places, the people, the food, everything will stay in my heart for long.