Sadar Bazar is also present in Delhi but due to anti-CAA protests we decided to stick with the market of Gurgaon.
Well, sadar badar is a market where you can get anything from cosmetics to clothes to household items and i mean literally anything at a very cheap rate.
So,we took a direct auto from M.G road to Sadar Bazar. And as we reached there, we saw the place was so crowded and there were police personnel everywhere.

We stopped at every shop and bought the things we liked. And after hours of shopping we felt so hungry to we searched for a nearbuy restaurant and ordered so much food.
Here is a glimpse of the tasty food we ate:
1. South India special Masala dosa 😋
2. Veg Spring rolls 😍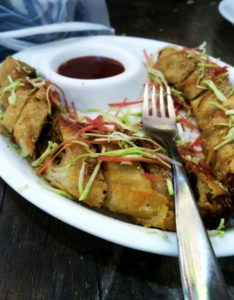 And we ate much more.
We enjoyed a lot there, it really was worth a visit.