So, in India we have a festival called Rakshbandhan, which was celebrated celebrated on two days this year on 11th and 12th August at certain timings.
What actually is Raksha Bandhan?
Rakshabandhan also know as Rakhi is a Hindu festival, which celebrates the bond between brother and sister. The sisters tie rakhi around the wrist of their brother and pray for their well being while the brother promises to protect and care his sister forever.
Rakhi is kind of like a sacred amulet.
How did I celebrate it?
So, this time we had a bit of confusion regarding the date of the rakshabandhan, but after my mom talked to her relatives and we watched multiple videos of pandits on you tube, we decided to celebrate it on 11th August at around 9 pm.
Many people celebrated it on 12th August too.
So, on 11th of August we woke up and got ready and ofcourse the breakfast had to be special, because Indian festivals are incomplete without amazing food.
So, we had kachori and aloo tamatar and kheer and dahi bade. I have shared few glimpses of it below.
Then I had to decide what to wear. So, here I scattered my pile of clothes to choose from.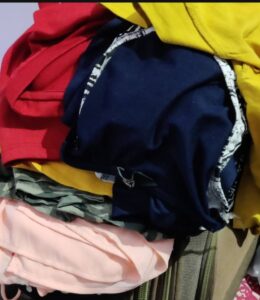 Once that was done, after that at around 8 pm we started preparing for the festival. First we did the puja. Then we made our brother sit and we put a teeka on his forehead, perfomed arti and tied rakhi on his wrists, then he took our blessings and gave chocolates as a gift to us.
Since, our relatives live far away from us, they can't come here for every festival l,so they send rakhi's through post so, we tied our cousins rakhi's also on our brothers wrist. We also sent our rakhis through post to our other cousins.
After that we had a mandatory photo session, with my family. Hehe
I hope through this post, you might have got a idea on how do Indians celebrate the festival of Rakhi.
How did you all celebrate Rakhi or any other other festival? I would love to know about it.