Facts / Story
Some Facts About Holi – The festival of colours.
Happy Holi 🎉💦
everyone. This year holi is celebrated today i.e. on 10th of march.So, I thought why not share some facts about holi with all of you.
So, Holi is a two days festival, the first day which is know as choti holi is celebrated by Holika dahan (Holi bonfire) and on the second day people throw colored powders and water on each other. Also, delicious foods and drinks are made and served.😋😋
So, here are some interesting facts about Holi which I thought everyone would enjoy reading!!🤓
1. The various names of Holi:
So, basically Holi is known by several names such as:
a. In Maharashtra: It is called Rang-Panchami.
b. In Mathura,U.P.:  It is lathi-maar holi
c. In Haryana: Dulandi holi Etc
2. It marks the good over evil: 
Well now you are about to hear a very interesting story. Therefore, pay extreme attention to this part because I know you are going to enjoy it a lot.
So, the word holi has been derived form "Holika". 
According to the Hindu mythology Holika was the sister of demon king Hiranyakashyapu.
And Hiranyakashyapu has a son named Prahalad who was devoted to lord Vishnu.
Prahalad's devotion to lord Vishnu didn't go well with his father. As a result he tried killing his son several times but all his attempts went in vain.
So, finally he decided that he should take help from his sister Holika, whi had a boon from Lord Brahma that she wouldn't be burnt in a fire.
Holika had a shawl which would protect her from fire. So the demon king asked her to take Prahalad on her lap and sit on the fire.
Prahalad kept chanting the name of Lord Vishnu. And the wind flew due to which the shawl went to cover Prahalad, which killed Holika.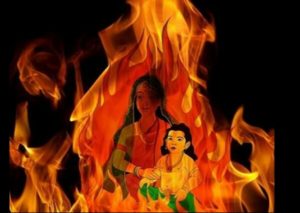 3. Use of water balloons and pistols:
Kids use water balloons and water pistols on the day of Rangwali holi. They hide and target the by passengers with balloon filled with colored water and water pistol.
4. It marks the end of winters:
Holi is celebrated after the full moon.The festival of Holi marks the beginning of Spring and the end of cold winters.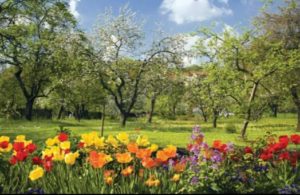 5. You have official permission to get filthy!:
And it is only day where kids and everyone has official permission to be as filthy as they can.😛😝
Thank you so much for reading. Please don't forget to subscribe to Interesting Reads so that you don't miss out on my latest posts.