No one ( I mean ofcourse except those people who want to be the employee of the year)  wants to go back to their 9 hrs working jobs where they have to just sit in front of their computers all day long and do the same boring stuff again and again. And keep hearing their bosses who definitely refuse to listen and understand you. And I know some companies do allow work from home. But  I mean who really wants to work while being at home.
Deep down all of us have passion to do something different, different from this monotonous job. But, we are not courageous enough to choose our passion as a career option. Hence, we follow the ongoing legacy of office jobs. Because ,you know, that's the safest option, no hard work needed to prove yourself. Just sit in front of the computer and no one even cares about your existence.
But now what to do? How to enjoy this life that we have chosen for us? Don't worry I have come to your rescue.
We all  know and can understand how boring can a monotonous job be. Well, I have some amazing tips which will help you breàk the boredom of your job and increase your productivity. So, here are some tips on how to make your monotonous job interesting.
1. Keep updating your playlist:  I know not everyone is a fan of listening music. But, trust me listening music is a great stress reliever. But, listening to the same old songs again and again can bore you. So, it's important that you keep updating your playlist. Play songs you love. You can even twerk on your favourite line. It will lift up your mood for sure.
2.  Make a new friend: Being with the same people for so many days also creates boredom. Have some friends outside of your team so that you have more topics to discuss on apart fom just work.
3.  Learn a new hobby: There are many times when we have absolutely nothing to do. Why not utilize that time by learning a new hobby like drawing, or writing a blog or anything going to the office gym or to the sports room. And if your office doesn't have a games room why not bring stuff from your home ( like rubics cube or a football etc) so that you can enjoy playing them when free.
4. Take breaks: Avoid sitting at your desks for long hours. Take short breaks like go for short walk or take a fruit break or go to fill your water bottle. And remember to always stay hydrated. Don't forget your health. 
5. Make your desk beautiful: Imagine a desk full of quotes from your favourite movie or a desk having your favorite plant. I mean it could be anything. I know you would crave to go to that desk.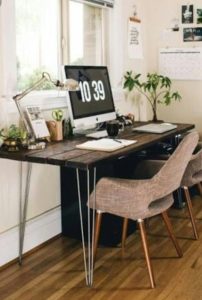 6. If nothing works, just leave it:
I know it's hard to get a job in the first place and the thought of leaving it may cross your mind some or the other time but due to various reasons you can't leave your job.
But trust me if you really passionate about something and you believe yourself that you can do wonders in that field, leaving you 9 to 5 job will be the best option you have ever made. And you would not regret that decision. If you are worrying about how not lose your cool while being unemployed, I have some amazing resources for you here:
https://the-shortlisted.co.uk/how-not-be-crazy-when-unemployed-jobless.
Do give it a read.
Thank you so much for reading.  Do share your thoughts in the comments section and also don't forget to subscribe to my blog Interesting Reads.